Scorpio Horoscope 2020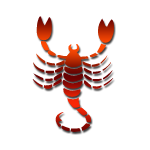 Scorpio people are very good at heart and very gentle in nature. Respecting elders and giving love to little ones is in their veins. According to the Scorpio horoscope 2020, this year will be very good for you. This year, you will get good news from all sides. You will spend good time with family members, and in return, you will also get lots of love. In your career and education, you will move very fast.
At the beginning of this year, the lord of your sign, Mars will be there in your own sign, i.e. Scorpio, which will keep your soul strong and you will do all the work by yourself. Although the middle of the year will be a little challenging, you will overcome all such situations. If preparing for a competition, success will also come quickly to you.
Scorpio Horoscope 2020 Career Horoscope
This year, you can change your old job and can join somewhere else. This new position will make you prosper. You would enjoy an increase in salary, and there is also a high possibility of getting promotions. However, this benefit will continue for the first few months of the year only. The situation may be slightly unfavourable in the middle of the year. The month of July and September is challenging for both the job doer and the businessman. During this time neither should you lend money to anyone nor borrow money from anyone. It will help if you stay away from the gossip at the office as it can put you in any trouble. However, the last month of the year will be rewarding for you.
According to Career Horoscope 2020 Predictions, you may also start something new after October. Coordinate with your partner at this time. Be careful while signing a cheque or any important papers as you may land into trouble because of it. You will not only receive an increment, but your boss will appreciate your skills as well.
Scorpio Horoscope 2020 Financial Life Horoscope
As per Scorpio Horoscope 2020, the year will start with huge expenditures. There will be a lot of burden on your pocket at this moment. You can buy things like a home, car or furniture. The situation will become standard in the middle of the year. New sources of income will also evolve. At this time you can go on a trip with your family.
As per Finance Horoscope 2020 Forecast, this year you will spend a lot on children's admission and studies. Take a prudent approach in the month of September and October. You can also invest in land and get unexpected monetary gains, but it would be better to consult an expert. Time to invest money in the stock market will be better after September. This year you will get rid of debt too.
Scorpio Horoscope 2020 Education Horoscope
In the field of education, you will perform well. This will give you good results despite less hard work or any struggle. Students of 10th and 12th standard may face some difficulty this year. However, the students who are preparing for government jobs will get good news in the middle of the year. It is possible that you may achieve your goals.
According to Scorpio Horoscope 2020 predictions for education, the ruler of the house of education is indicating towards more expenses at the beginning of the year. When you have to choose or elect any subject, you may be in confusion. College-level students will get a chance to do something new this year. Your hard work is expected to bring better results even after September, which will give you admission to your preferred college. This year you can also go abroad for studies.
Free Horoscope For Your Zodiac Sign
Scorpio Horoscope 2020 Family Life Horoscope
Family Life Horoscope 2020 foretells that, this year you will have to suffer in your family due to a misunderstanding. There is a possibility of estrangement with family members. It is possible to have a dispute with the elder brother about any property issue. The influence of Ketu and Rahu in the family house will create a rift between you and your spouse.
There may be mutual differences in the family due to excessive expenses. Tension due to work in the office will also affect the family atmosphere. However, in this case, your spouse will play an important role. For the sake of your children, you will have to employ every resource you have. Control your speech if you wish to end the differences.
Scorpio Horoscope 2020 Health Horoscope
Health Horoscope 2020 predictions show that you will spend a lot on health this year. Stomach related diseases will disturb you for the first 5 to 6 months. You may become a victim of stress due to blood pressure problems. Due to some official work, you may go on a trip in September. In such a case, do not ignore your health at any cost. This year, you also need to pay attention to the health of your children. Take a balanced diet and do yoga and exercise regularly.
Scorpio Horoscope 2020 Married Life Horoscope
From a marital life perspective, this year will prove to be moderately fruitful for you. At the beginning of the year, you can go on a journey with your spouse. During this time, you can also give a gift to your life partner, which will increase the love between you. Your spouse would help you in financial matters. You should understand each other's feelings and try to fulfil the expectations of each other.
As far as the happiness of children is concerned, this year you will spend more money on your offspring and may have financial problems afterwards. Children preparing for competitive exams may get good results later this year. Whether they are going to school or college, they would get appreciation from their teachers at the end of the year.
Scorpio Horoscope 2020 Love Life Horoscope
In the year 2020, you will have mixed results in your love life. On the one hand, your intimacy increases with your partner, but on the other hand, the situation of conflict will also arise. You may go on a journey to a distant place with your lover in the middle of the year. Keep in mind that you do not let any third person come in between you; otherwise, you may have to bear the brunt of it later. To keep love and harmony between you two, cherish each other's feelings and do not use words which can hurt the sentiments of your lover.
Astrological Remedies for Scorpio in 2020:
Worship Lord Vishnu and light a ghee lamp in front of their idol or picture.
Feed hungry people and Brahmins as per your capacity.
Wear yellow Sapphire in a gold ring on Thursday.
Regularly Offer Arghya to God Sun in the morning.
Feed bread to dogs regularly.
Best wishes from HindiKundli !