Today's Rashifal in Hindi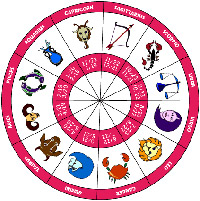 'Rashifal' is a Hindu astrological term, which means 'prediction of zodiac sign'. "Today's Rashifal" stands for daily horoscope (i.e. aaj ka rashifal in Hindi). As it is evident, Rashiphal is known as horoscope in English. Rashifal or horoscope had always been the most famous aspect of astrology. It doesn't matter if somebody believes in astrology or not, but everyone reads the Rashifal. Early morning, while reading the newspaper, nobody misses the Rashifal (Horoscope) section. Because, somewhere or the other, everybody sees a little hope in them.
Reading Rashifal in Hindi is an amazing way to start a day. You get an idea of the day; hence you can also schedule accordingly. Scheduling is very important these days; otherwise everything turns to a mess and we end up doing nothing. Check out your today's Rashifal in Hindi now:
Scheduling is not the only benefit earned by Rashiphal. Reading Rashifal makes you prepared for the predicted upcoming hurdles. You may plan and find a way out in advance if you know that trouble is coming your way.
Since years, Hindi Rashiphal of Today is helping people. Hence, the demand is always high. As the demand is high, many astrologers as well as astrology companies are offering Rashifal for the masses. Everybody offers the Rashiphal as per one's efficiency and knowledge. Hence, sometimes you may also find some predictions not matching to you. In that case, you may also get disappointed, which is not accepted.
Hindi Rashifal given here just gives you a general idea on what may happen. It is not necessary to happen what exactly has been said. Events also change as per your Karma. There are a lot many things that you need to understand before reading your Rashifal. Otherwise, it may affect you negatively. Like, if you read something unfavorable, you may feel depressed accepting that the event will definitely take place. In that case, you need to understand the fact that everything can be changed. So, it is just that you prepare yourself in advance. The concept of Rashiphal didn't come into existence to make you afraid. It has come to help you. So, utilize it positively and change your life.
Rashifal can be of a particular day, week, month, year or any other particular duration of time. Hence, you may plan any duration of time in advance that too with many good details.
You must be wondering, if future can also be changed itself, then what is the use of Rashifal. Let's know the answer to this question now.
When your Rashifal says that the time is not favorable for making any investment then you may become a bit more alert. Rashifal may predict that students may suffer a bad health during examination. So, the students may start planning in advance for their exams. Similarly, if a fight has been expected at work then you will try to keep your head cool and be prepared for anything that comes your way. So, these were some examples to explain how you can use Rashiphal to make your life easy.
Rashifal is made for the zodiac signs. So, you need to read the Rashiphal of your zodiac sign. This is the generalized way of knowing your predictions. However, if you wish to know the predictions personalized exclusively for you, then you may go for personalized Rashifal. In which, everything will be predicted exclusively according to your planetary condition. Personalized Rasifal is always better than the generalized one.
Rashiphal of a person is not confined to any particular section of a person's life. Rashifal can tell you about anything. It could be your health, career, love life, finances or anything.
Till now, while reading, a question must have struck your mind – how are the predictions made in a Rashifal. We will tell you – how?
As you know, there are 12 zodiac signs in a zodiac and each person belongs to a sign. The Rashifal helps a person to know what the sign is planning for the one. Yes, a Rashifal is generalized for all. It's more like as if the entire world is divided into 12 groups of signs and prediction is for the 12 different groups. Sometimes, prediction is of less use to an individual. So, in that case, personalized Rashiphal comes to the rescue.
Rashiphal is created after a deep analysis of each sign. All the aspects and conjunctions are taken into consideration before deciding the final result. Sometimes, the results come out quite contradicting for a single sign. It then gets dependent on the actions of the native. Suppose, a native falls ill and also has chances to go on a trip at the same time, his Karmas decide the path for him. At each stage of life, your Karma decides your future. That is why it is said that future can be changed. You always come with options in hand. Further, your actions decide the way to go. That is why sometimes Rasifal seems like a paradox and native finds it difficult to imply in life. However, in that case, native needs to understand that the Rashifal shows all the possibilities. One still has the chance to design the fate according to one's wish.
When you are born, the destiny is decided as per your deeds from the past birth. With time, as you change, your fate also changes with your deeds. So, when your Karmas change, unlikely to what it had been planned at the time of your birth, the native becomes unpredictable. Native becomes efficient enough to create one's own destiny. However, the planned destiny still has some of it's effects on the native.
Overall, the crux is that, Rashifal is always useful. It is even more useful when you get Rashifal in Hindi language. So, there is nothing wrong in reading it, especially when it is available for Free. It will merely cost you few minutes of your life. We hope you live a well planned life, full of only good surprises. Make the best use of Rashiphal and change your life. Find your daily, weekly, monthly as well as yearly horoscope here and bring the change.