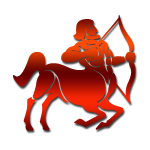 Health: Remaining careless about your health can generate numerous physical ailments. You are advised to take care of your well being as the presence of five planets in your zodiac sign can give birth to mental stress. Undoubtedly, Jupiter can give you strength, but at the same time, Saturn, Sun and Ketu can create problems related to excess anger, irritation, fever, etc. Maintain a nutritious diet and take adequate amount of sleep.

Career: As far as the professional life of Sagittarius natives are concerned, you are advised to remain cautious. Circumstances can alter very quickly. However, your performance will be noteworthy and senior officials will also come forward to extend their support. The planet Mercury is the significator of your Karma bhava or the house of profession. Its transit in your second house after 13 January will create better prospects for you at the workplace, because of which you will be able to give wings to your thoughts and ideas. However, when the transit of Saturn takes place in Capricorn zodiac sign on 24 January, all three planets namely, Mercury , Sun and Saturn will remain placed in the same sign. Because of this, unlimited professional success will fall into your lap on one hand, while on the other, you may invite trouble by speaking unnecessary things. Such an act of yours may also have a negative impact on your work. Talking about the fate of business professionals this month, then it can be said that it will take time for you to see the face of success. Bring changes in your behaviour and act amicably with everyone so as to move forward with a well established commercial image. The latter part of January will give uniformity to your trade and from the last week your work may also attain stability.

Love/Marriage/Personal Relations: January 2020 may prove to be somewhat adverse for natives who are in love. Distance may seep into your relationship not in terms of emotions, but geography. It means that your partner may remain out of your sight for sometime. But, it will not have any adverse impact on your relationship. Instead , both of you will realize each other's importance and work together to bring radiance to your bond. After 15 January, you may remain a but busy. This is the time when you should take some time out to meet your partner. Distance can give birth to problems in your relationship, thus you should work on it so as to make your romantic life more interesting and happy. Moving on, let us talk about the fate of married natives, who should remain prepared to welcome many unfavourable changes during the stretch of this month. Your spouse will try to manipulate you and try his/her best to persuade you, but you will be seen avoiding his /her plea, due to which bitterness may take house in your relationship. After 13 January, when the transit of Mercury takes place in Sagittarius, life partner's health may remain in low spirits. It can further deteriorate after the transits of Sun and Saturn respectively. Thus, you are advised to take proper care of spouse's health. If your spouse is a working professional, then there are strong probabilities of him/her attaining a promotion.

Advice: During this month you should worship the banana tree and along with this, the peepal tree should be burnt every Thursday without touching it. Applying saffron or turmeric tilak on your forehead every day will be better for you. For the attainment of best health and honor, recite Aditya Hridaya Stotra and offer water in a copper vessel to Surya Dev.

General: Because of remaining under the governance of Sagittarius zodiac sign, you never get distracted from your goals. Since the sign Sagittarius is also determined by the fire element and the planet Jupiter, you observe every situation carefully on the basis of your education and then face the circumstances. Amongst your peers, you are kept on a special pedestal and given a lot of importance. During January 2020, Jupiter, the ruling lord of your zodiac sign, will remain posited in your ascendant house. Because of this, you will stay empowered and your decision-making abilities will increase significantly. Usually, you take the most difficult decisions easily, but you will face some challenges in this month. Apart from this, you will be focused on many tasks. Because of this you can possibly get deviate from your goal. The latter half of the month will prove to be favourable as compared to its former phase. During this while, you will witness the good results of your decisions coming into the forefront. There may also be a journey or two during this month, which will be primarily undertaken with family or close ones to spend some joyous moments together. This will not only provide a new sort of energy, but you will also move forward by keeping a positive attitude towards life. This thinking of yours will prove to be an inspiration for you in every field. In the beginning of the month, you may get to taste scrumptious delicacies and possibly some auspicious event can get commemorated in your house, which will also make the family members happy.

Finance: In the first month of 2020, your economic situation will improve. You will also get good returns from your professional earnings and if you own any business, then it will also make contributions to your savings during this time. After 24 January 2020, the inflow of money will be witnessed in a substantial matter as the planet Saturn will move to its own zodiac sign. You will also be able to accumulate a successful amount of wealth during this time. As a result, economic status will become strengthened. Despite some small drawbacks, the transit of Sun will also create prospects for you to remain at the receiving end of rewards which are economic in nature. If you are enrolled in a government job, then are better chances of obtaining profits. The transit position of Mars in your twelfth house will keep your expenses high, due to which you will have to think seriously about increasing your income. After January 9, you will do any work for your younger siblings or offer financial help to them. If possible, do not think of investing now and wait for sometime. At the end of the month, you can earn a permanent asset.

Family & Friends: The month of January will be propitious for the domestic life of Sagittarius natives as happiness will be seen prevailing in the household. Everyone in the family will feel happy in each other's company and some auspicious task may also get commenced at the beginning of the month. Guests may arrive at your home. There will be an atmosphere of gaiety and each member will be seen heartily welcoming the visiting guests. After 15 January, the transit of Sun can create chaos in the family and when the transit of Saturn takes place with the Sun on 24 January, arguments and conflicts can occur between kith and kin. In such a situation, you are advised to maintain peace and work towards the betterment of the family. Also, you should not be afraid of such catastrophic situations as the presence of Jupiter in your lagna house, will keep guiding you and you will finally be able to establish peace and harmony in the family. This month, an elderly member of the family is likely to fall prey to a certain ailment. Thus, take full care of his/her health. Your siblings will provide you full unconditional support and will come forward to help you financially, especially in the last week of the month. This will intensify your relationship and you will also feel obligated to offer them help during the needy time. In this month, a new member may also join your household.