Tarot Reading 2016
Tarot horoscope 2016 is now here for you with some exciting news. Read these predictions to see how your forthcoming year is going to be. You will be surprised with these expert predictions..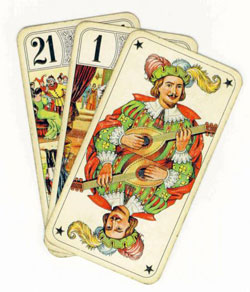 Aries
In 2016, the natives of this sign are going to relish benefits of luck. You will get lots of opportunities that will help you in your aim. The luck of Arians will be on their sides throughout the year. Though your personal life might be a little sour, do not rush and let the things go slow. It is always good to observe the situation and before coming to a conclusion. Your impulsive nature might take you towards making wrong decisions, so ignore it and have patience. Analyse your assets and then decide what are the things you want from life. Sometimes you have to take risks to excel in terms of career. So, be confident about your steps if you want good changes this year. Because whatever you decide to do in 2016, will affect your financial life. Make some strong professional relations with people who can be helpful to you.
Taurus
This year will be devoted to parties, social life, holidays and happy times. The natives of this sign will spend happy and relaxing time with their family and loved ones. 2016 will bring stability to your mind, which you were searching for quite a long time. Your luck will be in your favor throughout the year and it will result in success in everything you do. This is also the time to complete your pending work Taureans. Your year is going to be hectic and it will be the time to make big decisions. So, be alert while doing important tasks. What we do in our present will directly affect our future thus be careful. By and by you will complete all the work but make sure that you don't indulge in anything illegal. Break your shell that you have been keeping for so long. Start sharing your true self with people you trust to enjoy the real meaning of life.
Gemini
In 2016, you will give shape to your dreams and ambitions. Your creativity will enhance that will give flight to your life goals. Experience speaks, so do not hesitate in consulting your elders. They will help you with your decisions, and it be your strength. You are mature enough to realise that overconfidence is not good for people who really want to excel in life. The natives of this sign are advised to start looking into the world with different perspective. Nothing is assured in this life. Take some risks and may be it will work in your favor. Geminians need to control the expenses this year. You should stop being so stubborn in your love relationships. It will only complicate things and it is not you want we guess. Try to be straightforward and be expressive. Be a true warrior who is not afraid to lose the battle because victory is in your destiny.
Cancer
Organize your life in 2016 and start prioritizing things as per their importance. Understand what is important in your life, be it about career or people around you. It is always win-win situation for you to win hearts because of your cheerful nature. Bring change in your lifestyle and live thoroughly as life is short and unpredictable. You never know what will happen the next moment, so live each breath. Be an opportunist and step closer towards your aim. Take the first move to those who deserve your time and attention. In between the year, your past might pull you back. However, it is good for you to stop yourself from looking back into the past. Valuable opportunities will be coming to you that will take you towards success. The time has come for you to convert your planning into practicality. Keep your social life aside and work towards your career.
Leo
You will feel attracted towards a simple and meaningful life in 2016. This year, you will prefer 'simple living high thinking'. The natives of this sign will look forward to the real life instead of reel life, which is full of show off. Take a stand for what is right and be confident to reach the right place. 2016 is the year, when you will get the chance to overcome your weakness and enhance your skills. Life is meant to give you surprises and a strong person is the one who accepts both failure and success. So, do not dwell into the rejections you get from life. It will be good not to trust people so easily even if they are close to you. Do not rush while making a decision and think wisely about everything. Keep a healthy balance between your personal and social sphere. Most of your intutions will be correct this year. Be cooperative with others and ignore being dominant.
Virgo
2016 will bring you a life full of positivity and happiness. You will be acting mature and sensible now. You will socialize more that will help you build strong contacts. Your spiritual side will be seen in 2016 along with your responsible personality. Be smart enough to keep your flaws to yourself and self analyse yourself more than ever. It is good to ask for suggestions but it can be harmful to accept them blindly. Do think about it before making a decision based on it. Make yourself strong enough to keep control on your emotions and try not to repeat mistakes related to your past relationships. Recognize the opportunities that will come your way and use them in your favor. Let your creative mind do wonders in your professional life. Surprise everyone with your skills and be ready to have a blissful year full of glory.
Libra
The dull life of Librans will fade away in 2016. The life of the natives will drastically take turn, giving a bulk of opportunities and making it an adventurous year. Some big changes in your life can be seen in this forthcoming year. The right energy to deal all the situations will be there in you. Your life will be filled with harmony and positivity. You should try to be more practical in life and act accordingly. From the middle of the year, you will feel relaxed and from this time being a team player will be beneficial. Do not distress yourself with working more than your capability. Instead, focus on quality of work you do and not on quantity. Ignore making false commitments in personal as well as professional life. So, nothing to worry about because this year will rock. Your life will be full of love and romance people.
Scorpio
The natives of this sign will make everything new in 2016. You will set new goals, will make some promising commitments and all that will lead to a great life. You will be a winner at the end of all the tough times you have been going through. Some major changes will happen in your personal as well as professional life. Work according to your priority and do not spend time on unnecessary things. In the mid year, you might face some problems. You need to take control on things as soon as possible. Release your soul from negative feelings as it is harmful for everyone, even you. Spend some quality time with people you love and those who love you. These are the people who will stand by you in your hard times. Do not act selfish, especially in case of love. True love will come in your life when it is supposed to. Just have patience and everything will be good.
Sagittarius
2016 is the time to focus on your overall personality. This improved self will enhance the confidence level of Sagittarians in a great way. In the beginning of 2016, the natives of this sign will focus on productive work instead of the meaningless things happening around. You will also start working towards the betterment of future life. Be careful in every situation and do not let things affect your bondings. You might be ignorant towards some important people while giving too much time and thinking about others. In the end of this year, you will be making some big decisions based on your better understanding of life and the challenges you have faced. Do not indulge in things that stop you from moving up in your life. Let these things go. Have faith in yourself as there is nothing to fear about.
Capricorn
Capricorns will be moving ahead in their ambitions and 2016 will take them closer to it. Everything positive will happen in your life this year. To think positive is to do positive. Mental peace and harmony is very important to excel in your dreams. You need to be calm and make sure that you stay in your limits to avoid anything that would affect your future. Do not get influenced by others and follow their advice blindly. There is a possibility that some misunderstanding will occur between you and your closed ones. Do not act casual and think that everything will heal slowly. Step forward to sought out the problems on your own. You are advised to ignore those who demoralise you and your capabilities. You can plan an outing with your family. And yes, if you are planning to get married, this year will be awesome.
Aquarius
You are expected to show the extrovert side of yours and start socialising as much as you can in 2016. This year is going to boost up your career and personal life. The Aquarians will make good use of the diplomatic nature they are born with. And this will help you in all angles. You should avoid sharing your personal life with others to avoid being judged or harmed. Also, maintaining a safe distance from people will stop you from getting involved in arguments or grudges. Break all those connections you have in your life that are nothing more than a stressful show-off. You might take a big step in the mid of 2016; though it will be a learning experience that will help you in your coming life. Unnecessary outing or trip will only be a waste of time and money. So, ignore doing such things in this year.
Pisces
Pisceans will start living life freely and on their own terms. In 2016, the natives of this sign will overpower all the boundations they have been bounded with. This will inspire you to live your life in the way you have always wanted. Your decisions might affect others and even hurt them, but it is really important for you to be a little rational this time. It is not possible that everyone will be happy with everything you do and sometimes it is necessary to be selfish. There is also a possibility that some legal issue will bother you in the second half of the year. So, be alert throughout the year and save yourself from those who are jealous of you. You might be dumped by some friends in 2016. But no need to dishearten yourself, the real ones will be there for you. Your professional life will give best results if you will work hard. You will spend more on Gadgets because you just love it!