Ketu Transit 2017
Ketu transit in Aquarius has happening on January 29, 2016. Being retrograde in motion, it will take next transit in Capricorn on August 18, 2017. Let's see how this transit of Ketu is going to make its impact on you.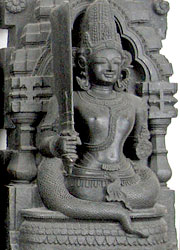 Different Panchangs are predicting different calculations for Ketu transit 2017. As per our Panchang and software, Ketu transit in Aquarius has happened on January 29, 2016 at 11:37 pm.
Different Panchangs are predicting different calculations for Ketu transit 2016. As per our Panchang and software, Ketu transit in Aquarius is occuring on January 09, 2016 at 09:52 am. The above given date of Ketu transit in 2016 has been verified from others ources as well.
Let us now take quick peek into all zodiac sign:
Aries
This Ketu transit is in your 11th house which will result in your increased income. Even though Ketu is posited in Saturn which will reside in 8th house, the natives are not going to have continuous flow of money. Though this does not mean that you are not earning well in this duration. Think wisely to ignore unwanted expenses and avoid wrong ways to earn money so as to lead a wonderful life.
Taurus
The 10th house of yours is now occupied by Ketu transit. Due to this transit of Ketu, imrpovement in your working skills will be observed. You will be able to do good as compared to your past experiences. It is good to make new friends and socialize but make sure you do not let anyone play with your honor. Political department will observe betterment in their life. It is suggested to remain off from legal matters and respect others.
Gemini
Ketu is transiting in your 9th house. This Ketu transit horoscope suggests you to work on improving your spiritual self. As this spirituality will help you majorly and make you more lucky and courageous. Brahmans, teachers, or anyone who is elder to you is going to help you through this time. Students staying away from their family for studies are going to do good in studies. Spiritual and religious people are predicted to be the winner in everything they do.
Cancer
Ketu transit will happen in 8th house of the natives of Cancer zodiac sign. Unfortunately this Ketu transit is not so favorable for you so just be very careful throghout the year. Especially your health needs attention during this phase. You are suggested to avoid eating junk food as your abdomen might trouble you because of this. Eat homemade healthy and hygienic food and consult your doctor whenever needed. Also make sure you are driving carefully.
Leo
Ketu transit is happening in the 7th house of Lions. This phase is not so romactic for you. You are suggested to act calmy and behave nicely with everyone to avoid any kind of miunderstanding at your home. Handle your love matters nicely and be alert in business partnership. Sout out everything that is going on and do not hesitate in comrpomising for the sake of your closed ones. Ego is never good.
Virgo
This Ketu transit is occuring in your 6th house and this will get you good things. You will be able to clear off all the debts and will now be relieved. Anyone who is suffering from any health iusse will now feel the imrpovement due to this Ketu transit. Legal matters will no more bother you. You are also going to free yourself from all those who envy you and are troubling for wuite a long time.
Libra
Ketu is transiting in 5th house and is bringing mixed results in everything. Your willpower and decision making will now increase. You are also going to feel more inclined toward religious deed and education. Though try to not to get yourself into things that are just a waste of time. Be wise and ignore wrong paths to earn quick money. Ketu transit wants you to take out time for people who love you and care for you.
Scorpio
Ketu transit is happening in your 4th house. You are suggested to believe in yourself and do not feel disheartened if your luck is not with you. You might have to feel distressed because of some domestic issues. Be the shield for your family and do not let your familial relations get the impact of this phase. Care about your family and ezpecially your mother. Make sure to avoid any leagl matter. Take good care of yourself and love your closed ones.
Sagittarius
The 3rd house of your kundali is now occupied with Ketu transit. this transit of Ketu is going to increase your courage and make you more energetic. You will feel more confident in this phase of planets and will finish the assigned task in advance. Never cheat or betray those who trust you blindly. Respect yourself and donot push yourself on others. Friends, siblings or your neighbors will be beneficial to you. Keep good relations with everyone.
Capricorn
Ketu transit is happening in your 2nd house. This transit of Ketu is quite disturbing for you as it will affect other houses. Financial matters needs to be taken care of properly. Do not invest in anything that is out of your way or instead do not invest in major things. Keep control on your language while you speak to others. You are suggested to eat healthy food to avoid abdomen related issues. Be loving to your loved ones and spend time with them.
Aquarius
The 1st house of Aquarius is occupied by Ketu transit which is making you more courageous. You will feel strengthened but do not get stubbron about it. You might to any extent to get things that you want but do not get yourself in trouble in doing this.Take care of your health and eat healthy food. Married couples might have some discrepencies but things will be under control. Professional life will be going amazing.
Pisces
Ketu is transiting in your 12th house due to which you will be getting lotof opportunities to go out for trips. Though some useless journeys can also be there. You are suggested to spend where it is required. Stay happy and do not worry so much. Those of you who are not feeling well, go and consult your doctor. Though this might even be a disease phoia and you might not actually be having any problem. So, nothing to worry.
Remedies: If you are feeling that things are not going well in your life due to this Ketu transit, you are suggested to start fasting on Thursdays. You should worship Lord Ganesha and wear 9 Mukhi Rudraksh (9 faced Rudraksh). It will help you.
The above given predictions and remedies are all we have in Ketu transit 2017 for all zodiac signs. We hope things will be better in your life after reading this Ketu transit horocope 2017 predictions.
By Pt. Hanumman Mishra