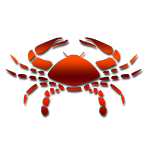 Health: The main issue regarding health that could be faced by the natives born under the sign of the crab is likely to be the anxiety issues throughout this month, which can then possibly manifest itself in other physical forms like stomach aches, indigestion etc. The start of the week will be on an impulsive note, where you will be restless as Mars and Saturn both are aspecting each other during this time duration. Then, from 5th December onwards the majority of the planets will be transiting around your 5th to 8th house during the whole December 2021 month. This indicates problems related to the abdomen and lower abdomen region in terms of health. The transit of the Sun with Mercury in your sixth house, fourth house aspected by the lord of sixth Jupiter and eighth Saturn indicates that even at the pretext of small issues, you are likely to imagine a worst-case scenario. This can lead to negativity and you manifesting physical problems and can cause major issues. So, try and be optimistic during this period and not indulge in overthinking about small issues. Your all aspects of life are good, so try to keep yourself mentally and physically by indulging in yoga, physical exercises. Indulging in hobbies, interests like dance, music etc. will also help you a lot.

Career: The natives born under the sign of the crab are likely to be at the receiving end of the favorable results in terms of career and profession during the month of December 2021. However, during the first week, the position of Mars in your fifth house allows you to showcase your skills and execute your plans with proficiency. You will have an ambitious, never say die approach at the workplace, which will help you to achieve results faster. However, those working in government organisations can come across some sudden transfers. The movement of the Sun, Mercury and Venus during the second week will also bring favorable results. You will be able to overcome your enemies with ease and will be willing to enhance your skills leading to growth and rise in your career. However, you can be aggressive and will be less receptive to suggestions and changes during this month, which can harm your growth at the workplace as it can lead to hasty decisions. So, try and work on these tendencies of yours to achieve great results from the month of December 2021. Overall, a good month for the people working in administration, marketing and management areas. As far as businessmen are concerned, a good month to aggressively push your products in the market which have been pending for a long time. A great period to undertake travels to explore new areas and new opportunities. As Venus which governs your income house will be moving into your seventh house with Saturn, this indicates being social, using new forms of technology will help you expand contacts, business and gains. Also, a very good month for those looking to start part-time business or their own business.

Love/Marriage/Personal Relations: Romance is in the air for the natives born under the sign of the crab as the position of the fifth house lord Mars in the fifth house is indicative of auspicious happenings on this front during the month of December 2021. The position of Mars in your fifth house throughout this week indicates that any differences in the relationships that occurred in the past are likely to get resolved during this month. However, Mars positioned in the fifth house makes you protective and warm in love matters, but, sometimes it makes us a little too possessive for our partner. This may discomfort them and can create unnecessary problems in otherwise good relationships. So, try and work on this tendency of yours to achieve better results this month. Eligible natives are likely to get a match of their choice during this month, also, those of you may be a little hesitant to share your feelings with the person you like, may feel confident during this month. So, we can say a good month for lovers. In terms of marital life, those of you looking to expand their brood are likely to get good news during this month. The movement of Venus in your seventh house during the second week of December till the end of the month will be very favorable. This indicates that you are going to achieve great benefits and profits from your spouse during the month. However, sometimes Venus present in this house of desires can tempt one to have a relationship outside their marriage, which can create problems in marital life. So, be careful and try to spend as much quality time with your beloved as possible. Overall, barring a few ups and downs, a favorable month for the married natives.

Advice: Give arghya to the Moon during the evening hours. Chant the Moon mantra daily during the Moon hora. Worship Lord Krishna as he is associated with the Moon. Donate the white things on Monday like rice, milk and sugar. Take blessings of your Mother before going to work.

General: Cancer natives are imaginative, creative and intuitive by nature. They are well organised and practical in their approach as far as their professional arena is concerned. The month of December 2021 will be very favorable for the professionals as from the start they are likely to receive beneficial results. They will be able to execute and implement their skills with proficiency during this month. Traders and merchants born under the sign of the crab are likely to benefit from travels, which is likely to provide them with necessary exposure and experience both. In terms of finances also, positive outcomes can be expected from the second week itself, though still, they may face some problems while accumulating their income. Though the results in terms of familial life can be considered average and mixed during this month of December 2021, as the second and fourth house lord Venus both are not in conducive positions, which indicate that some past family issues can come on surface disrupting the domestic environment. The health of some family members can also remain fragile and weak during this month. In terms of education, the students are likely to get mixed results and may have to work a little harder than usual to improve their academic performance. Love birds might witness some temperamental differences in their relationships especially during the initial phases, but gradually it will improve with the progress of the month. Married natives might find the necessary spark missing in relationships. Also, results will be mixed and interesting as far as the health part is concerned for the cancer natives.

Finance: From the economic point of view, this month is going to provide the Cancer natives with interesting results. The transit of the fifth house lord Mars in the fifth house will ensure that you will get good results from trading, stock market etc. The strong position of the Mars and maximum planets in the earth signs indicate that sale, purchase of the real estate and property is going to provide them with lots of gains and profits. The movement of the Venus in your seventh house in conjunction with the seventh house lord Saturn indicates that short trips are going to provide the natives with a lot of benefits. This combination is also likely to provide you with some gains from offshores or abroad. It is also likely to provide you with benefits from your friends, contacts and associations. In order to get more benefits from this month, try and be social and use means of communication like the internet, social media etc. However, though, the income flow is likely to remain regular but the position of the Sun and Mercury in your sixth house may indicate that expenses may increase. You may have to splurge a lot of income on the health of a family member. Some litigation matters can also take up a large chunk of your savings, so avoid any confrontations or arguments during this month of December 2021. This can also be avoided by diverting your finances in a positive direction by taking up some important policy or investment that will secure you and your family.

Family & Friends: For the Cancer Moon sign, family affairs are governed by the Sun, which will be positioned in the fifth house along with Ketu at the start which indicates that right from the start of the month of December 2021, there will be obstacles in your domestic environment. The presence of Mars also in your fourth house during the first week also indicates that some past unresolved issues may come on the surface leading to arguments and clashes in the household. During the second week, the presence of the second house lord the Sun and third house lord Mercury both in the "Paap Kartari" yoga, indicating that there could be some clashes with the relatives or within the family over some land dispute or financial matters. However, it is suggested to avoid indulging in unnecessary arguments and clashes, otherwise, they are going to be a cause of mental worry and anxiety. However, it is a good month to spend quality time with siblings and listen to their grievances and problems, this will help you build great friendships with them. Though you are going to make new friends during this duration and your old friends will remain supportive of you during this month of December 2021. Your mother will provide you with great comforts and luxuries, so try and maintain proper decorum while dealing with them. Overall, a mixed result when it comes to family life.